Sale
Sale!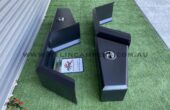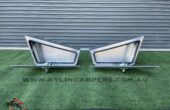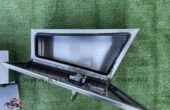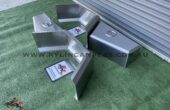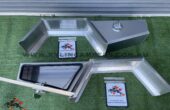 Undertray Steel Trundle Drawer
$645.00 – $700.00 inc GST
Under Tray Tool Box Trundle Drawer 1500mm, 1800mm, 2100mm Long, UTE Drawer, Heavy Duty Roller Drawer
Under Tray Tool Box Trundle Drawer, 1800mm, 2100mm Long, UTE Drawer, Heavy Duty Roller Drawer
Ute Tray Drawer, Roller Drawer, Trundle Drawer, Quality Drawer, Quality Tool Box
Brand: Kylin Campers
Specification:
Our Ute Drawers, Roller Drawers, Trundle Drawers fit between the chassis runners on most Alloy or Steel trays and are bolted directly to the underside of the tray.
Material: 2.0mm galvanized steel plating and finished off with a brushed aluminum face plate
Accessory: drop down stainless steel T lock for added security, supplied with duplicate keys
Our underbody drawers are capable of carrying up to 150kg of evenly distributed load.
The Sliding mechanism is made of Quality Roller Bearings of 100kg rating
A well built robust design, fully enclosed casing, water and dust resistant
Heavy duty construction
Packaging:
Carton size: 202x82x22 cm
Gross weight: 104.0kg
Insurance:
We ensure that your items are packaged correctly, we will not be liable for any damage in transit unless transit insurance has been purchased. For all insurance purchases please call us. Insurance must be purchased and paid for prior to dispatch.
Pick up:
Free pick up from our factory in Campbellfield, VIC 3061
FREIGHT:
If you cannot pick it up from our factory, please contact us for a FREIGHT quote.
Alternatively, contact us for a freight quote first, then purchase the item. After you pay for the item and the freight, your order will be delivered.
Please note: Freight for this item MUST be to a business address with a FORKLIFT or a depot with one of our chosen carriers.  If not, freight will incur a hand unload and tailgate fee (POA) which will need to be paid prior to dispatch.
Name
Model
L x W x H (mm)

Undertray UTE Steel Trundle Drawer

PTTD-1800
1800 x 750 x 170
PTTD-2100
2100 x 750 x 170
Sales Team
PIONEER TECH PTY LTD
Factory address: Unit 34, 35-37 Jesica Road, Campbellfield, VIC 3061
Phone: 03 9357 8913
Mobile: 0439 558 580 / 0428 072 265
Email: [email protected]
Web: www.pioneervision.com.au
www.kylincampers.com.au