Ute Canopies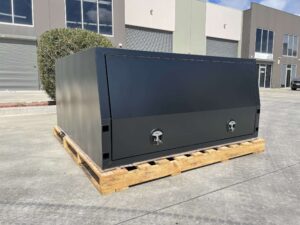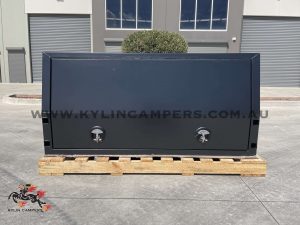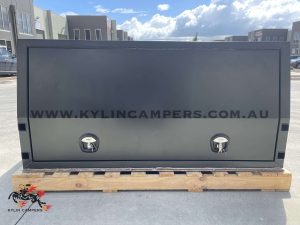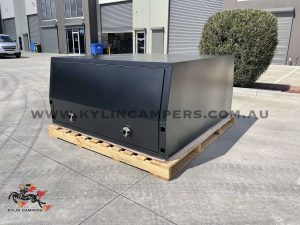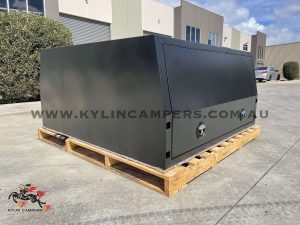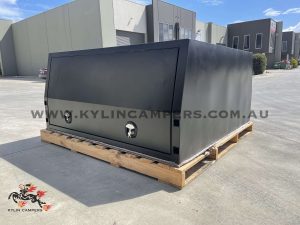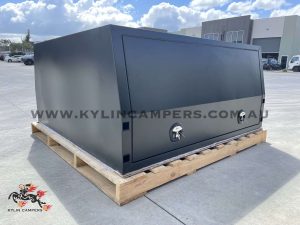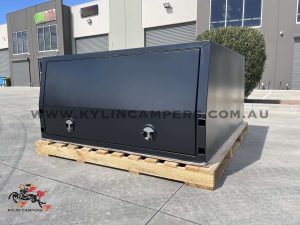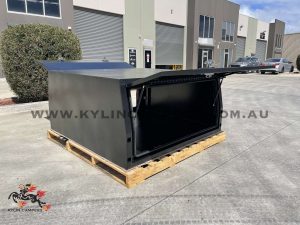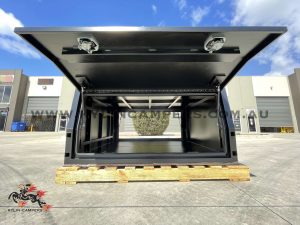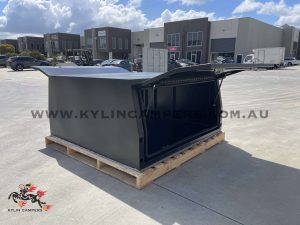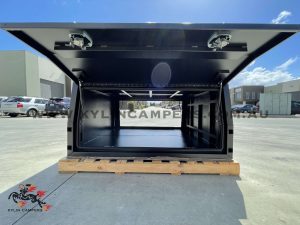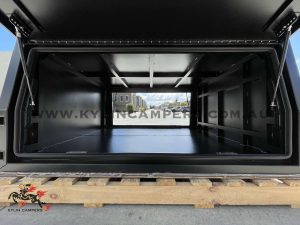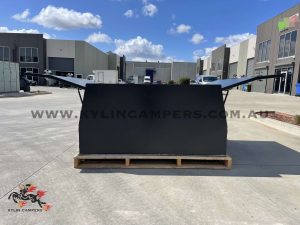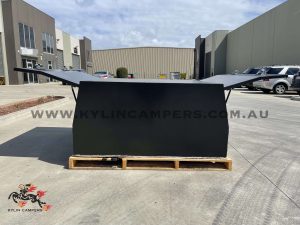 1800L Black Flat Alloy Jack off Canopy (No Back Door)
$3,900.00 inc GST
Brand New Dual Cab Jack Off Black Powder Coated Alloy Canopy (No back Door), Aluminum Canopy, UTE Canopy – 1800x1800x860mm
Out of stock
Brand New Dual Cab Jack Off Black Powder Coated Alloy Canopy (No back Door), Aluminum Canopy, UTE Canopy – 1800x1800x860mm
Kylin Campers offer a great range of UTE canopies, UTE undertray drawers, caravans, camper trailers and parts and accessories.
This canopy is designed to fit onto an existing Ute Tray. This will fit most DUAL CAB trays.
Specification:
Heavy duty 2.5mm alloy flat/smooth plate
Powder coated black for both outside and inside (Satin textured black)
Fully seam welded
Fully enclosed unit with its own built in floors, double floors with reinforced tube frame between the two floors.
Reinforced crossing channels under roof
The roof is rated to support 300kg of evenly distributed weight
Large Gull Wing doors, with heavy duty full length Stainless Steel Piano Hinge Covered by Waterproof PVC
Heavy duty gas struts assisted door opening
Rubber weather seals
Comes with 4x black Whale Tail Locks
The opening height of the doors is adjustable (With specially designed gas strut brackets)
2xside doors
No back door, instead back wall is specially reinforced, so customers can fit spare wheel on the back if they wish to.
Specially reinforced roof and bottom
4xjack off legs are optional at extra
Optional: 4 x Jack off legs at Extra Costs
Standard Size:
Dual Cab Canopy 1800L x 1800W x 860H
Model: JO-DCBPC1800L(NBD)
Top Width: 1500mm
Bend Height: 360mm
Packaging and Weight:
Packaging Size of Canopy: 1825x1825x875mm
Gross Weight of Canopy: 170 kg
Please Note:
Fitting, Freight are not included in the price.
FREIGHT:
This product has to travel on a pallet and must be unload with a forklift.
Freight for this item MUST be to a business address with a FORKLIFT or a pickup depot with one of our chosen carriers. If not, freight will incur a hand unload and tailgate fee (POA) which will need to be paid prior to dispatch.
Please use the "Quick Shipping Quote" function to get a freight quote. (Please note that the price quoted in quick shipping quote is without GST, GST will be included when check out) 
PAYMENT
The following payment methods are accepted on our website when you checkout:
Bank Transfer
Payment by PayPal
Payment by Credit/debit card
Payment by ZipPay/Zip money
You can also give us a call during our business hours to pay over the phone with a credit card
Sales Team
Kylin Campers
PIONEER TECH PTY LTD
Address: Unit 34, 35-37 Jesica Road, Campbellfield, VIC 3061
T: 03 9357 8913 / M: 0439 558 580
Email: sales@kylincampers.com.au
Web: http://www.kylincampers.com.au